Amusement and Theme Park Accidents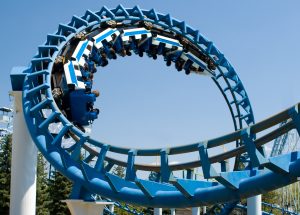 With kids out of school and families taking vacations, many choose to visit a theme or amusement park. Approximately, 335 million people visit theme parks annually, according to the International Association of Amusement Parks and Attractions. There are 405 amusement parks in the United States, including water parks, zoos, aquariums, and science centers.
While amusement and theme parks can be extremely fun for visitors, they can also pose serious risks for all types of injuries – turning visitors into victims. Accidents like slip and falls, getting injured on an elevator or escalator, or even accidental drownings are not only possible but happen more often than they should at amusement and theme parks. Given the heightened dangers associated with these parks, many times accidents result in serious injury or death.  All too often these accidents are the result of the park's negligence and could have been easily prevented.
Amusement and Theme Parks Owe a Duty of Care to Park Visitors
Amusement and theme parks, including those found in Georgia, are largely regulated by state and local governments. These parks owe a duty of reasonable care to the visitors, and if they fail to take the proper steps to protect guests or visitors and an injury occurs, the injured party may have a cause of action against the park and its employees for compensation for his or her injuries.
Common Types of Amusement and Theme Park Accidents
Nationwide, there have been many injuries and casualties as a result of park accidents. While not exhaustive, below is a list of common accidents and injuries that can and do occur:
Failing to properly secure passengers resulting in a fall
Roller coaster carriage collision
Roller coaster derailment and carriages jumping off the track
Amputations
Fractures
Traumatic brain injuries
Drownings
Cardiac arrest
Assaults and shootings
Injured at an Amusement or Theme Park? Contact Atlanta's Premises Liability Lawyers
If you suffered injuries while visiting a theme park, contact Atlanta's Premises Liability attorneys at Cash, Krugler & Fredericks right away. Our firm has helped victims of such incidents successfully recover full and fair settlements and verdicts for their damages.
Atlanta Law Firm Cash, Krugler & Fredericks represents victims of serious injuries because of the negligence or intentional misconduct of others. Specializing in premise liability matters, auto and trucking accidents, spinal cord injuries, elevator accidents, brain injuries, medical malpractice, and defective products, we can help you, too. Contact the Atlanta Law Firm Cash Krugler & Fredericks to schedule a comprehensive review of your claim or call us at (404) 659-1710.