Blue Bell Sings the Blues, Yet Again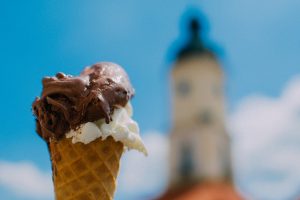 Blue Bell Ice Cream is once again the center of a product recall. The company has issued a voluntary recall of select products due to a potential for it to contain Listeria monocytogenes. The affected products are ice cream half gallons and pint sizes of Chocolate Chip Cookie Dough and Cookie Two Step. At this point, there have been no reports of illness. Blue Bell is reported to have caught the issue during routine product testing and alerted the third-party supplier of the cookie dough involved.
Previous Safety Concerns
The ice cream company remains under federal investigation relating to a deadly multi-state Listeria outbreak in 2015. The incident last year caused the company to voluntarily recall all of its products as well as temporarily shut down operations. During this period, 10 patients in four states were infected with several strains of Listeria. All ten patients were hospitalized due to their illnesses and three deaths were reported from Kansas.
Food Safety
The U.S. Food and Drug Administration is in place to investigate potential food safety issues. They work alongside the Centers for Disease Control and Prevention and state and local government officials to determine the source and severity of safety violations. The information from these investigations hold companies responsible for unsafe practices.
Listeriosis is an illness caused by eating food contaminated with the bacteria listeria monocytogenes. This illness can be fatal, especially to high-risk groups, such as the elderly and those with a weakened immune system. Symptoms include:
Fever and chills
Muscle aches
Diarrhea or gastrointestinal symptoms
Liability and Third-Party Suppliers
Blue Bell has determined that the source of this Listeria scare is the egg-free cookie dough in their ice cream products. This cookie dough is not, however, manufactured by Blue Bell. A third-party supplier, Aspen Hills, Inc. manufactures the no egg chocolate chip cookie dough.
Very few products are made entirely by one manufacturer. Parts and individual ingredients can be produced, shipped and handled by a number of different companies before ever being added to the final product. These third-party suppliers may not be subject to the same standards. In this instance, Blue Bell has very little control over the practice and standards held at Aspen Hills. While Blue Bell has an invested interest in ensuring the overall product safety, the actual manufacture of the components are relatively uncontrolled.
Keeping Your Family Safe
Food safety recalls should never be ignored or taken lightly. Any recalled items should be returned to the place of purchase for a refund. The experienced attorneys of Cash Krugler & Fredericks are here to represent victims and their families who have become ill due to unsafe food manufacturing practices. Contact your legal team at Cash Krugler & Fredericks by dialing (404) 264-1710 or by visiting them online.
See Related Posts:
What Constitutes Medical Malpractice In Georgia?
Recent Elevator Explosion Highlights Hidden Hazards