Cash Boys Team in JDRF Walk to Fund Diabetes Research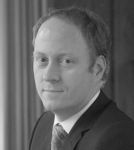 As the weather mercifully starts to edge towards fall, my family and I are enjoying the weather and getting ready for a big walk. No, we're not planning to tackle the Appalachian Trail – we're preparing to participate in the 2014 Juvenile Diabetes Research Foundation Walk on October 18th.
The JDRF strives to improve the current treatment of Type 1 diabetes and to one day find a cure. Juvenile diabetes (now referred to as Type 1 diabetes) is usually diagnosed in children and young adults. Individuals with Type 1 diabetes cannot produce insulin, the hormone responsible for converting sugar, starches and other foods into the energy our bodies need to survive.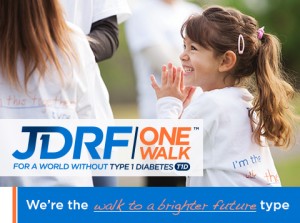 Less than 100 years ago, diabetes was a death sentence. Children diagnosed with the disease typically lived less than a year. Unable to treat the disease properly, diabetics wasted away – either from the "starvation diets" prescribed by doctors or from the disease itself. Families of diabetics could only watch as their loved ones suffered, sometimes only for a few months.
In 1921, insulin was discovered. You can read about the Nobel Prize winning scientists' research here. Diabetics who had been close to death were given insulin created using the pancreas of a cow. They improved quickly, regaining weight, their appetites and their energy.
My wife and I hold the JDRF's mission close to our hearts. Both of our sons have Type 1 diabetes. Our eldest, Gavin, was diagnosed at age 3. Our youngest, Liam, was diagnosed at age 8. While diabetes is no longer a death sentence, it still is not a simple condition to manage.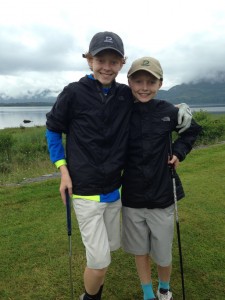 Those of us without diabetes should marvel for a moment at all that our pancreas does for us every day. Insulin is released at the right moment, in the right amount, at the moment we need it to get to work. This ensures our blood sugar stays in a healthy range. My sons, and children like them, must constantly monitor their blood sugar. This requires ten or more finger pricks each day. If their blood sugar is high or low, they must correct it either with a shot of insulin or a food high in glucose.
We're so grateful for the research and advancements to date, but we will continue to work for more. People with diabetes never get a break – diabetes follows you to school, work, playing sports and while you're sleeping. So we walk, together, in hopes of a cure.
This year, in honor of our son Gavin's 10th year living with Type 1 diabetes, our team set a fundraising goal of $50,000. If you'd like to learn more about the JDRF, the walk or would like to participate, please visit JDRF Walk.
If you'd like to make a donation, please consider a tax-deductible donation to the Cash Boys Team. We'd be grateful for your support of JDRF and our family.
-Andy Cash