The Danger of Construction and Elevators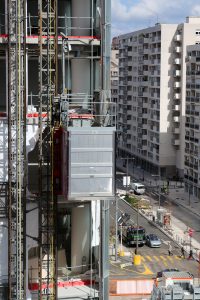 A pre-Christmas elevator accident turned deadly in New York.  According to reports, a construction worker died after plunging three stories down an elevator shaft. The victim was climbing a ladder when he fell from the third floor to the basement. He later died at the hospital.
Previous Safety Concerns
In a perfect world, accidents like this would never happen. Machines would always work perfectly and construction sites would be safe for both workers and pedestrians. Sadly, incidents like this are all too common. According to the Department of Buildings, this work site alone had been investigated 22 times since May 2014 due to complaints about safety. Safety is often ignored, especially on sites with chronic construction. Common construction complaints include improper equipment, unclean or cluttered sites, and unsafe practices by the workers or supervisors. This Bronx construction site is now closed until the incident can be properly investigated and the site can be evaluated for potential safety concerns.
Identifying Risks
A study by the Construction Industry Institute worked to determine workers' ability to identify and properly deal with workplace hazards. Workers were only able to identify hazards on the job site without any aid 27%. There is hope, however. When workers were provided with formal protocols and training, the ability to identify hazards jumped to nearly 80%.
This inability to recognize risks is common in many dangerous professions. It stems from a lack of knowledge, inattention to detail, and being in a hurry. Workers are often tempted to take shortcuts to save time. When on site, these shortcuts can be not only dangerous, but deadly. The worker in this incident was wearing a helmet, but unhooked his harness to climb the ladder in the elevator shaft. This one time-saving practice may have caused him his life.
Construction Site Liability
As with any workplace accident, workers injured at construction sites are entitled to workers' compensation benefits. These benefits may not be enough to cover loss of income or medical costs. A third-party liability claim can then be filed against a party other than the injured worker's employer whose negligence caused the workplace accident.
Third-party claims can provide additional compensation. At construction sites, third-party claims often involve general or sub-contractors, site managers, safety contractors, or even the manufacturer of job-site equipment. Injured parties can seek compensation for unsafe practices such as a lack of fall protection, keeping a site open despite dangerous conditions, and failing to warn workers of a dangerous situation.
Seeking Compensation For Your Elevator Injuries
When elevators work properly they are perfectly safe, but when owners and managers fail to make open elevator shafts or elevators that are under construction safe everyone is at risk. If you have been involved in an elevator accident, it is important to have representation that is familiar and experienced with common issues that arise during personal injury litigation related to elevator accidents. Learn what your rights and recovery options are moving forward in your quest for compensation. We here at Cash Krugler & Fredericks in Atlanta, GA can help. Contact our experienced attorneys today for a free initial consultation.
See Related Posts:
Safety Measures Could Have Prevented Elevator Tragedy
Going Up? What You Need To Know About the Risk of Home Elevators