Deadly Guardrails Still on Georgia Highways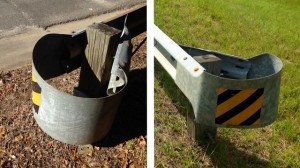 Earlier this month, we reported on the defective ET-Plus guardrail. Manufactured by Trinity Industries, these guardrails are on highways across the nation and here in Georgia. This dangerous guardrail is responsible for deaths and horrific injuries of more than 20 people. But shockingly, it's not the only defective, dangerous guardrail on the highway.
More than 20 years ago, the federal government told states to remove breakaway cable terminals, or BCTs, from roadways. Like the ET-Plus, the blunt-end BCTs don't always shear away from oncoming vehicles like they're designed to do. Instead, they cut into cars, endangering the lives they were meant to protect.
In 1994, further purchase of BCTs was banned nationally. In 1998, the Federal Highway Administration went further, advising states to replace all the BCTs in use. The FHA didn't demand that all BCTs be located and removed immediately. Instead, they allowed states to replace them gradually, during routine roadwork.
As of October 2014, more than 300 BCTs were in use on highways in Georgia.
When asked about the 16-year delay, Georgia Department of Transportation commissioner Keith Golden said, "You can't go out and do it overnight. In the transportation world that's not necessarily that long of a time."
In the intervening years, though, at least two Georgians have lost their lives. Jacob Spradley crashed into a BCT in November 2013. The rail shot through the car and through Jacob and his passenger.
In April 2014, another young man, Paul Bohaczyk, died after hitting a malfunctioning BCT. The rail cut into the car, slicing his seatbelt as it did. Without the protection the guardrail was meant to provide, the car continued into a tree. Paul was thrown from the driver's seat to the passenger seat where he died.
In October 2014, WSB investigative reporter Jodie Fleischer interviewed Keith Golden, questioning him about the deadly guardrails in our state. That investigation was the only reason GDOT became aware of the hundreds of dangerous guardrails that line major highways like I-75 and 285. To the Department of Transportation's credit, two weeks after Golden's WSB interview they promised to take action.
GDOT and Golden promised to send work crews out across the state to find the remaining BCTs. (The department keeps no records detailing which type of guardrail is in use or where. At least 300 have already been found; upon request, WSB's investigative team provided their map of BCT locations to the GDOT.) The GDOT also promised to create a timeline for replacing the dangerous guardrails, with priority given based on traffic volume along the roads.
We hope that the replacements continue, and quickly, so that no more lives are lost.
Sources:
http://www.wsbtv.com/videos/news/2-investigates-deadly-guardrails-on-georgia-roads/vCzGkc/
http://www.wsbtv.com/news/news/hundreds-deadly-guard-rails-found-georgia/nht3W/
-Dave Krugler