Georgia Traffic Alerts Caused by Hurricane Matthew Evacuees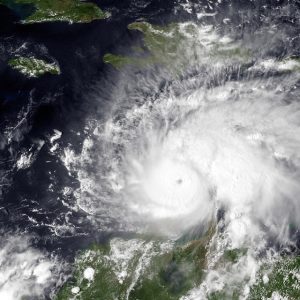 Highway officials have been warning Atlanta drivers that their regular commutes may include much more congestion. Evacuations in the wake of Hurricane Matthew are causing extra traffic in the metro area. More than 1.5 million Floridians and Georgian residents along the coast were ordered to evacuate in the wake of the storm.
In response, Georgia Department of Transportation is suspending all construction-related lane closures and traffic is being redirected in an attempt to minimize the impact of the extra drivers. Drivers are being reminded to not drive around traffic barriers and to be extra alert as they share the roadway with evacuees. Highway Emergency Response Operations vehicles will also be deployed to help drivers with roadside emergencies such as accidents and running out of gas.
Hurricane Matthew which was originally listed the by the National Hurricane Center as a Category 4 storm weakened to a Category 2 hurricane as it moved up the coast. Category 2 storms have maximum winds of 110 mph. More than 1 million Floridians are reportedly without power. With so many people fleeing the area, many hotels in southern Georgia are already at capacity and more people are making their way into Atlanta.
Increased Risks with Congested Roadways
According to the Georgia Governor's Office of Highway Safety, there were 1,179 traffic fatalities in 2013. With more people on the roads, the risk of accident increases. Protect yourself and your family by following all traffic regulations and laws, including:
Never drive under the influence of drugs or alcohol. Georgia's DUI laws state that drivers with a blood alcohol concentration of 0.08 or greater may be subject to fines, suspension of their license, and even jail time.

Obey speed limits and road signs. Speeding tickets can result in monetary fines, including a Super Speeder fine which is an additional fee of $200 when the driver is convicted of excessive speeds. Super Speeder violations are listed as 75 mph or more on a road of two lanes, or 85 mph or more on any road or state highway. Unpaid tickets or habitual traffic violations can also result in the suspension or revocation of a driver's license.

Buckle up. Georgia law states that all front seat occupants of passenger vehicles must wear a seat belt. According to the Centers for Disease Control and Prevention, seat belts saved 12,802 lives in 2014 and reduce serious crash-related injuries and deaths by about half.
If You are in an Automobile Accident, Be Sure to Consult with a Georgia Personal Injury Attorney
Whether or not you experience an automobile accident in a hurricane or perfect weather, you should not try to deal with the aftermath by yourself. You may deal with traffic every day of your life but you do not deal with traffic accidents on a daily basis. Consult experienced personal injury attorneys who do. If you or a loved one is injured or killed in an auto accident, contact the personal injury attorneys at Cash Krugler & Fredericks, LLC. Contact them at (404) 659-1710 or visit them online to schedule a consultation today.
See Related Posts:
Recent Elevator Explosion Highlights Hidden Hazards
What Constitutes Medical Malpractice In Georgia?