Jawbones vs. Sawbones 2016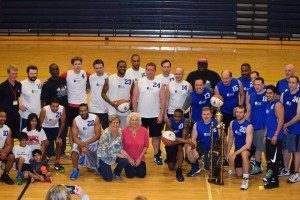 On March 12, 2016, Cash Krugler Fredericks was proud to serve as the MVP or lead sponsor for the Side By Side Brain Injury Clubhouse's 5th Annual Sawbones v. Jawbones Basketball Benefit. This is the signature fundraising event for Side By Side, pitting local lawyers versus doctors in a basketball game that raises awareness of the issues faced by those who have suffered traumatic brain injuries. In addition to awareness, this benefit serves as a tremendous fundraiser as well, raising significant money for this important nonprofit organization. This year, Side By Side hosted the event at Decatur High School and enjoyed record crowds, as huge numbers turned out to support Side By Side and its mission improve the lives of those who have suffered traumatic brain injuries.
For the last five years, Cash, Krugler Fredericks has proudly supported Side By Side and its signature event, serving as the lead sponsor for the last four years. Having represented numerous clients with significant brain injuries over many years, Cash Krugler Fredericks has seen firsthand the incredible impact that Side By Side has on its "members," helping each person to rebuild and find meaning in his or her life after suffering a devastating brain injury. The mission of this amazing organization is to advance the long-term well-being of people who have suffered brain injuries and their families through skills development, support and advocacy. Having enjoyed the tremendous support of The Shepherd Center, Side By Side has made on incredible impact on the lives of brain-injured victims and their families for over 15 years now and, fortunately for its members, their families and our community, continues to do so. Side By Side is truly a remarkable organization and one that Cash Krugler Fredericks is very proud to support year after year.
-Andy Cash, Dave Krugler and Alwyn Fredericks