Jawbones vs. Sawbones: Epic Basketball for Serious Injuries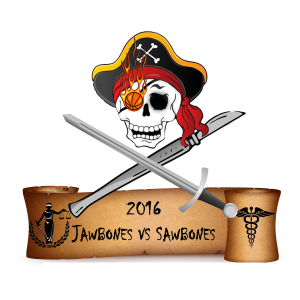 In December, I spoke to a group of attorneys, health care providers and families of brain injured loved ones regarding the ethical challenges of protecting a client who has diminished capacity due to a traumatic brain injury. When an accident happens that causes a traumatic brain injury (TBI), the victim often faces a lifetime of problems and limitations that affect not only the injured person but also their family as well. Having represented clients like this over many years, Cash Krugler Fredericks feels strongly that a big part of our job is to help families navigate these complex issues.
We personally see the struggles that clients and their families endure after a TBI. Because the fight for our clients does not stop in the courtroom, we make it a priority to ensure each TBI victim has the best possible outcome as they begin the journey ahead that is their new life. That is why we feel it is so important to support The Shepherd Center and the Side By Side Brain Injury Clubhouse. Side by Side Brain Injury Clubhouse is a bridge of support for people with brain injuries to transition from medical patients to contributing community members. Side by Side Brain Injury Clubhouse was founded in 1999 with support from Shepherd Center and Emory Healthcare.
Every March, Cash Krugler Fredericks participates in Side by Side's annual charity basketball game, Jawbones vs. Sawbones. The Jawbones vs. Sawbones fundraiser provides much needed financial support for the program. This event pits local attorneys against doctors in a game that not only raises awareness for this important cause, but also significant money for the organization. It's a fun event with a serious message, as we strive to bring awareness about brain injuries and organizations that help people who have sustained these injuries to reintegrate into fulfilling lives.
This is CKF's third year as lead sponsor of the event. You won't want to miss it so make sure to mark your calendar for The 5th Annual Jawbones vs. Sawbones Basketball Benefit, which will be held on March 12th, 2016 starting at 5pm at the Decatur High School gym. You can see more information about this fun event at http://www.sidebysideclubhouse.org/news-events/signature-event-2015/
-Andy Cash