More Holiday Safety Tips: The Christmas Tree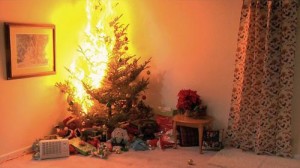 One of the greatest Christmas traditions is the Christmas tree. The smell of a Fraser fir fills a house with Christmas spirit.  According to the National Fire Protection Association, there are about 210 fires caused by Christmas trees a year. That's a low number, but it should be zero! No one should have to go through a potentially devastating house fire, especially during the holidays.
Christmas Tree Safety Tips
If you buy an artificial tree, make sure it's fire retardant.
When picking a real tree, fresher is better! The trunk of the tree should be sticky; the needles should not be falling off.
When you bring a real tree home, cut off 1 to 2 inches from the bottom of the trunk before you put it in the stand. Water your tree daily!
Place your tree in a safe location. Real or artificial, your tree should be at least three feet from any source of heat. This includes candles, radiators, heaters, a fireplace or lights.
Use appropriate string lights on the tree. Don't connect too many – a spark could be dangerous!
As beautiful as a lit tree looks in the darkness, turn off the lights when it's time for bed or if you leave the house.