Nursing Home Abuse: Are Your Loved Ones Being Cared for Properly?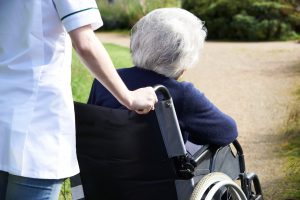 Nursing homes, including assisted living facilities, care for the elderly and people with special needs who require long-term continuous medical care. The decision to place a family member in a nursing home can be extremely difficult for the family. Today, approximately 1.3 million people live in nursing homes throughout the United States.
Sometimes patients in nursing homes or assisted living facilities are abused or neglected. In especially horrific circumstances, the patients can even be sexually abused by another patient or nursing home staff. Negligent supervision of employees or other patients can result in abuse to your loved one in a nursing home.
How do I Know if My Loved One is Experiencing Nursing Home Abuse?
It is difficult sometimes to determine if your loved one is experiencing nursing home abuse because of his or her own health issues or inability to communicate effectively. This can be especially difficult if your relative is suffering from dementia, Alzheimer's, or other memory loss, as he or she may not be able to tell you if they have experienced abuse. Instead you will need to observe and review your loved one's overall care and well-being to make your own determination.
Below is a list of injuries that are often seen in nursing home abuse cases. While not all-inclusive, use your best judgment when you notice repeat injuries that cannot be explained, such as:
Bedsores
Broken bones or fractures
Bruises or cuts
Dehydration
Infection
Injuries from the application of restraints
Malnutrition
Mental or emotional fatigue
Poor hygiene
Sepsis
Unexplained weight loss
Where to Get Help
AARP, a non-profit organization active in issues that affect the elderly, is an excellent resource for families dealing with nursing home abuse and neglect issues. Visit their website at www.aarp.com for more information.
Are You or a Family Member a Victim of Nursing Home Abuse? Contact Atlanta's Nursing Home Abuse Lawyers
Atlanta's Nursing Home Abuse Lawyers are available 24/7 to help you seek compensation when your loved one has experienced abuse in a nursing home or assisted living facility. Nursing home abuse often occurs by professionals who care for your loved one. The best way to protect your loved one is to be aware of the signs and symptoms of nursing home abuse and act as soon as possible. If you are a victim of nursing home abuse or suspect your family member is a victim, contact Nursing Home Abuse Lawyers at Cash, Krugler & Fredericks to schedule a free consultation to examine your case and discuss your options.
Atlanta's Nursing Home Abuse Lawyers represent victims of serious injuries because of the negligence or intentional misconduct of others. Specializing in auto and trucking accidents, spinal cord injuries, elevator accidents, brain injuries, medical malpractice, defective products, and premise liability matters, we can help you, too. Contact the Atlanta Law Firm Cash Krugler & Fredericks to schedule a comprehensive review of your claim or call us at (404) 659-1710.