RECALL! Kia and Hyundai Issue Massive Recall of Vehicles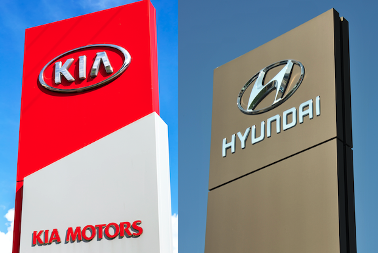 "Park your vehicle outside and away from your house," or any structure for that matter.  That is what owners of approximately 485,000 Kia and Hyundai vehicles are being told here in the U.S. Just what you want to hear as a vehicle owner. As reported by ABC News and other outlets, the recalls that were reported yesterday are yet another round from the automakers that involve fire and engine failure problems that have plagued their vehicles for at least the last six years.
According to reports, "the problem is contamination in the antilock brake control module that can cause an electrical short" that in turn can result in the vehicle catching fire, regardless of whether the vehicle is on or being driven. At this point, the recall includes the Kia Sportage (2014-2016), Kia K900 (2016-2018), Hyundai Santa Fe (2016-2018), Hyundai Santa Fe Sports (2017-2018), Hyundai Santa Fe XL (2019) and the Hyundai Tucson (2014-2015).
The automakers say at least 11 fires have occurred as a result of the defect, but it is likely that number is underreported. The recent recalls come after the National Highway Traffic Safety Administration, having received 161 complaints involving engines of various models, ramped up its investigations into the defects. This is at least the eighth recall issued by Kia and Hyundai, and NHTSA is evaluating whether past recalls by the automakers were too narrow and whether the past "fixes" were in fact effective.
In November 2020, NHTSA required Kia and Hyundai to pay $137 million in fines and for improvements, after moving "too slowly to recall more than 1 million vehicles" with defective engines. The fines were the result of the automakers' "behavior involving recalls of multiple models dating to the 2011 model year." According to data gathered by the Center for Auto Safety, similar past recalls from the automakers involve "more than 20 models from the 2006 through 2021 model years" totaling over 8.4 million vehicles. As reported, "Kia denied the U.S. allegations but said it wanted to avoid a protracted legal fight."
By issuing the latest recalls, both Kia and Hyundai have now openly acknowledged additional hazards posed by their vehicles. At this time, thankfully, no injuries have been reported that are directly linked to the defective autos. However, that could change as the investigation continues.
If you own a Hyundai or Kia, you can visit the National Highway Traffic Safety Administration's website (www.nhtsa.gov/recalls) and enter your vehicle's VIN to see if your vehicle is included in the recall. Both automakers are offering free repairs to fix this dangerous defect.  If you are an owner of one of the recalled vehicles, you should immediately take the vehicle to the dealership for repair.
CKF has represented multiple families and individuals around the country who have lost loved ones or suffered catastrophic injuries as a result of defective products. These tragedies are almost always preventable and are regularly the result of the manufacturer's negligence, whether in the design, manufacturing, or the marketing and insufficient warnings issued with these products. Through product testing, manufacturers often know of the very real dangers posed by their products, but in the interests of profit, refuse to fix them and sell these products anyway. Those injured by defective products are entitled to compensation and justice.
CKF's Nationwide Defective Products Lawyers
For nearly 20 years, the attorneys at Cash Krugler Fredericks have specialized in handling cases across the country involving defective products. If you or a loved one has been injured as a result of a defective product, the experienced attorneys at Cash Krugler Fredericks can help. Contact us today for a free consultation to get your case started.