Safety Measures Could Have Prevented Elevator Tragedy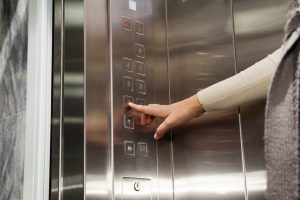 A six-week-old infant died after falling with her mother down an elevator shaft in a New York apartment building. According to witnesses and police reports, the young mother was attempting to push her child's stroller into the out of service elevator on the 23rd floor. Mother and child fell onto the roof of the elevator five feet below. At which point, the elevator car dropped even further to the 17th floor. The baby girl was pronounced dead at the hospital.
While this accident is clearly a tragedy, fatal elevator accidents happen more often than many people realize. These everyday devices may seem simple, but they can actually be extremely dangerous.
 Unaddressed Complaints
According to records, the New York apartment building where the infant lost her life had faced multiple complaints in the past, including more than 120 elevator violations since 2005. The multi-building complex built in 1974 contains ten elevators, all of which are regularly inspected by the servicing company. Yet residents were not surprised by the accident, having experienced numerous smaller incidents in recent years.
The Office of Insurance and Safety Fire Commissioner regulates escalators and elevators for the state of Georgia. Their roles encompass inspection, maintenance, and accident reporting. Inspection and safety measures are critical to preventing injuries and saving lives. These inspections and early warning systems, however, mean nothing if there is a lack of follow-up. Unaddressed complaints and dangers leave people at risk.
Wrongful Death
The New York accident occurred in an elevator that was under repair at an apartment complex. This means many parties could be potentially liable for the unfortunate death of the young child as well as the injuries to the mother, including:
The apartment complex property owners: Owners are responsible for the general upkeep and maintenance of the property in a manner that ensures the safety of residents and others who may enter the property.
The company responsible for the repair of the elevator: Repair companies are responsible for taking proper safety precautions with repairs such as posting clear and obvious warnings that the elevator is out of order.
The manufacturer of the elevator: Manufacturers are responsible for potential defects in the design, construction or assembly of the elevator.
Seek Professional Guidance
We here at Cash, Krugler & Fredericks take elevator accidents seriously and have been at the forefront of elevator accident litigation for years, seeking to hold those negligent parties responsible for the life-changing injuries they inflict on unsuspecting elevator users. Our representation of elevator accident victims has led us to develop strong relationships with leading engineering and design experts on elevator safety as well as changes to Georgia law regarding elevator safety.
Despite efforts to hold negligent parties responsible to serve as an example and warning for property owners everywhere, elevator accidents continue to occur around the country. If you have been involved in an elevator accident, it is important to have representation that is familiar and experienced with common issues that arise during elevator accident litigation. Know what your rights and recovery options are moving forward. We here at Cash Krugler & Fredericks can help.
See Related Posts:
Cash Krugler & Fredericks Obtains Another Major Settlement in Elevator Accident Case
Going Up? What You Need To Know About the Risk of Home Elevators