Samsung Struggling to Keep Name Clean in Face of Exploding Washing Machines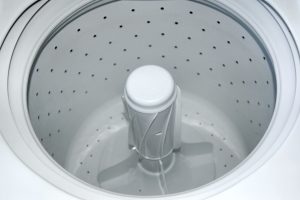 Less than a month after Samsung recalled their Galaxy Note 7 phones, the U.S. Consumer Product Safety Commission is working with Samsung yet again to address safety concerns with the company's top-loading washing machines. Machines sold between March 2011 and April 2016 have been reported to come dislodged and cause property damage.
In what feels like deja vu, Samsung is again being cited for exploding products. One incident report included the owner hearing loud booms while others claim metal shards flung from the machine and damaged walls. The damage has been caused by the tub becoming unfastened, and simply spinning so quickly and with such force that it destroys the machine and anything nearby.
Protecting Yourself
Samsung is currently advising owners of the affected washing machines to simply use the lower-speed cycles when washing bulky items such as bedding. This "lessens the risk of impact injuries or property damage due to the washing machine becoming dislodged." No official recall has been issued for the affected models. People who believe they may be in possession of an affected model can go to the Samsung website and enter their serial number to see if they are affected. When dealing with a defective product, it is best to not put yourself in further danger.
Product Liability Claims
Product liability claims can help you to recover compensation for the damages done. This compensation can include medical costs, both immediate and future, lost wages, and compensation for emotional distress. If you have been injured or have experienced property damage due to a defective product, there are a few key things that will help lead you to a positive outcome in your case.
Product liability cases hinge on a few very important facts, including:
You were injured or suffered losses, including property damage
The product is defective (including design, manufacturing, or marketing defects)
The product defect was the cause of your injury or property damage
You were using the product as it was intended and not inappropriately or against the manufacturer's guidelines
It is Always in Your Best Interest to Consult an Experienced Georgia Personal Injury Attorney
Product recalls and defective product claims can be difficult to navigate but are no less important to win when it comes to recovering for personal injuries. When a large appliance like a washing machine is faulty, the malfunctioning machine can can cause physical injuries to operators and property damage. The experienced attorneys of Cash Krugler & Fredericks can help fight for your rights. Their history of handling defective product cases can prove beneficial in any case as they can provide you with the resources needed to take on large companies. Contact them at (404) 659-1710 or visit them online to schedule a consultation today.
See Related Posts:
A Sour Note For Samsung's Galaxy
Georgia Appellate Court Denies State Sovereign Immunity Claim