School Bus Safety Week a Reminder to Keep Our Kids Safe
School Bus Safety Week winds up today, an annual event that celebrates the benefits of school buses and highlights what everyone in the community can do to make school buses safer.
The buses are bigger and heavier than other vehicles and sit higher off the ground than most of what they'd collide with. School buses are designed to withstand all but the most serious crashes. On the ride to and from school, school buses are seven times safer than the family car or truck.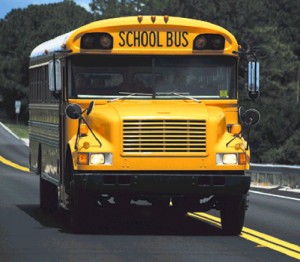 School buses are, in fact, the safest  motorized transportation on the  road. As I mentioned in an earlier  blog post, 30,000 Americans are  killed in car accidents every year. Six  school-age children die as  passengers on school buses.
Half of all American school children  ride the bus to school every day. All  told, school buses travel four billion  miles each year. Even with the  stellar record of school buses, there  is more we can and should do to  improve safety. School Bus Safety Week reaches out to parents, teachers, drivers, students, and motorists. School bus safety is, in part, the responsibility of the community.
Students are parents should be aware of the "Five Step Rule" when disembarking from the school bus. It's simple: take five giant steps away from the bus once you've stepped out. More children are injured outside of the school bus, where they can't be seen, than inside the moving bus. Everyone should remember that walking behind a running school bus is unadvisable. Always cross well in front of the bus!
Parents should also teach children to never, ever, try to pick up anything that has rolled under the bus. The same height that keeps kids safe while riding the bus makes it dangerous outside of the bus.
Students should have a safe place to wait for the bus, away from the street. The driver will activate colored, flashing lights and the swing-out stop signs to alert other motorists of the stop. As a fellow driver, make sure you stop when you see the stop signs. You can be ticketed for not stopping; more importantly, children are making their way on and off the bus.
School buses are a safe, economical and environmentally friendly way for children to get to school, so we must all work to ensure that our nation's children get to school safely.