The Emmy-Winning Series on Elevator Accidents
In recent posts, we've referred to the series that aired on FOX-5 after we alerted investigative reporter Dana Fowle to the dangers many home elevators can pose to children.
We have been actively involved in getting the word out about the potential dangers of home elevators after representing the Helvey family, whose son Jacob was tragically injured in a home elevator accident on Christmas Eve, 2010.
Although we settled the Helvey case last year, we will continue our involvement in this issue until this dangerous situation is remedied.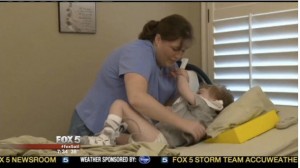 After we contacted Dana, she produced the first video that focused on the Helveys. Dana continued her investigation and produced a five-part series on the dangers and efforts the state of Georgia is making to make them safer. Sadly, children continue to be severely injured in totally preventable elevator accidents.
We thank Dana for her focus on the safety issue of home elevators. Please view these videos and be aware of the danger. While you may not have an elevator in your home, your children may visit a home that has one. Or you may rent a beach home that has one, as another family did at Myrtle Beach. Their young son suffered catastrophic injuries in that elevator last Thanksgiving during a family reunion.
These accidents do not have to and should not continue to happen. Please help us spread the word.
Here is the full, five-part series:
Part 1 is the video that focuses on the Helvey family, Jacob's injury and their day-to-day lives now, caring for him after his catastrophic brain injuries.
PART 2: State Leader Responds to I-Team Home Elevator Investigation
The first report on the Helveys accident was so alarming, it prompted action from the state. In this second part, Dana spoke with Georgia State Insurance Commissioner Ralph Hudgens about his plans to improve safety of home elevators.
PART 3: State Reacts To I-Team Home Elevator Investigator
Dana reported that the Insurance Commissioner sent out a letter marked Urgent! to 9,000 homeowners alerting them to the dangers of home elevators. Until she brought it to his attention, Ralph Hudgins had not ever heard of the deaths and injuries that had occurred in home elevators.
PART 4: Residential Elevator Dangers Worse than Originally Thought
Dana called home elevators a potential "death trap for children" and spoke with John Koshak, an industry safety expert we had hired to consult on the Helvey case. He believes Georgia needs to tighten the residential elevator code to prevent more injuries to children.
PART 5: State Proposes To Make Home Elevators Safer
Thanks to Dana Fowle and her reports on FOX-5, the insurance and fire safety commissions are proposing changes that they hope will "make Georgia a trendsetter in elevator safety."
-Andy Cash, Alwyn Fredericks, Dave Krugler