This Spring Break, Go the Extra Mile to Be Safe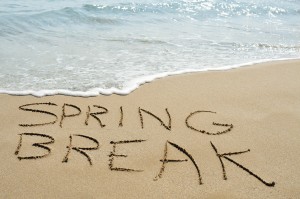 If you're headed to the beach or another vacation destination this spring, Cash Krugler Fredericks has some tips to help keep you and your family safe.
If you're driving, make sure you have the proper automobile insurance before you hit the road. You might think you're covered, but your coverage may be inadequate. One family came to us when their car was rear-ended by a speeding driver and their child suffered serious injuries, including skull fractures. The driver who hit them had the minimum liability limits of $25,000. Unfortunately, the family did not purchase uninsured/underinsured motorist coverage (UM/UIM) for their vehicle, so they were left with an amount that didn't even cover the medical bills. You can protect yourself from this situation by checking your insurance before you head out and specifically asking your insurance agent about whether you have adequate UM/UIM coverage.
It's also important to make sure that your car is ready for the drive. Get a service inspection and an oil change and be certain that your tires are properly inflated. Also, check to see if your car is part of any recalls. Our firm has successfully litigated defective products cases, including automobiles and tires under recall. Most recently we handled a case involving a KIA Sorento recall. You can visit the National Highway Traffic Safety Administration's recall website to search by make/model or by your car's unique vehicle identification number.
Once you're on the road, stay alert and be aware of other drivers, especially those driving big trucks. The National Highway Traffic Safety Association declared that I-285 in Atlanta is America's deadliest interstate and the American Transportation Research Institute revealed the nation's worst truck bottleneck is also in Atlanta at "Spaghetti Junction" where I- 285 and I-85 intersect. These two high rankings make Atlanta a prime location for a truck accident. The damages and injuries that motorists suffer in trucking accidents are typically severe and often deadly. Cash Krugler Fredericks has extensive experience representing clients injured in automobile and trucking accidents.
If you have children, it's crucial to check if the vacation rental or home of friends or family you'll be visiting has an elevator. Many residential elevators have a dangerous gap between the interior and exterior doors large enough to allow children to fit between those doors and become trapped. When the elevator is called to another floor, the trapped child can be crushed, causing death or catastrophic injuries. Cash Krugler Fredericks has represented the families of children who have been seriously injured by these elevators. Our firm doesn't stop when the case ends, but instead continues to fight to make it right. Our advocacy efforts have contributed to significant changes to the elevator code in Georgia, and we continue to pressure the industry to make their existing and new elevators safe. We also continue to work with the Consumer Product Safety Commission to institute a nationwide residential elevator recall to eliminate the hazard and prevent future tragedies. We look forward to the day that these elevators are no longer deadly hazards. Until then, if you have children and are staying in a home with an elevator, make sure to keep it off limits for the kids unless there is adult supervision.
We hope these tips help and we wish you a fun and safe Spring Break.