Riding an Escalator Can Be Dangerous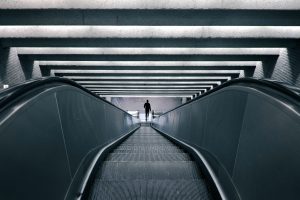 An escalator is a moving staircase, found in buildings and public spaces like airports, shopping centers, and train stations.  Escalators assist in transporting people from one floor to the next with little effort by the rider. Often connecting the ground floor to a plaza or open area, an escalator speeds up the entry and exists in public places in which people need to move about smoothly.
Escalators, because they are electric and have moving parts, must be maintained and regularly serviced to remain in good working order. Failure to maintain an escalator is a safety hazard and may open the property owner or lessee to municipal safety ordinances and liability if someone is injured because of the defective escalator.
Yearly Escalator Related Injuries on the Rise
A study published in the U.S. National Institutes of Health journal, the National Library of Medicine, compiled statistics regarding escalator related injuries and concluded that about 10,000 escalator related injuries occur annually that require emergency room treatment. Among the studies main finding were:
Equal amount of men and women injured following an escalator accident.
Most escalator related injuries occurred in people older than 60.
Women tend to get in accidents on Tuesdays between the hours of 12 PM and 6 PM while men get hurt between 6 PM and 12AM.
62% of all escalator accidents occurred in public transportation facilities, with shopping centers coming in second place.
More than half (55%) of the people injured (both sexes) required hospitalization longer than 24 hours.
Escalator Accidents are Serious
Last year a 3-year-old child going down the escalator at a MARTA train station suffered severe injuries to her foot, causing a foot amputation, when her jacket got caught in the escalator and the escalator's protective guard broke. The child's foot was swallowed by the escalator and crushed. It took several hours to free the girl. Although the young girl remained conscious throughout the ordeal she was given fentanyl, a pain killer 100 times more powerful than morphine, while she waited to be freed from the escalator.
Suing Public Transportation Agencies
All lawsuits against public transportation agencies must be filed within the requisite statute of limitations period for suing a governmental agency. MARTA or the Metropolitan Atlanta Rapid Transit Authority is a government agency. Children have a longer statute of limitations period than adults.  Contact our attorneys at Cash, Krugler & Fredericks for specific information about your filing period.
Have You Been Injured in an Escalator or Elevator Accident? Contact Atlanta's Escalator Accident Lawyers Today
The law firm of  Cash, Krugler & Fredericks represents victims of serious injuries because of the negligence or intentional misconduct of others. When the injuries lead to the death of a loved one, family members may pursue wrongful death actions in addition to the survivor suit. Specializing in auto and trucking accidents, spinal cord injuries, elevator accidents, brain injuries, medical malpractice, defective products, and premise liability matters, contact  Cash Krugler & Fredericks to schedule a comprehensive review of your claim or call us at (404) 659-1710.
See Related Posts: