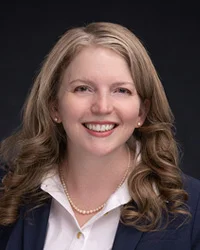 Laura Voght – Partner
Laura Voght is an award-winning trial attorney and is actively involved in the legal profession at both national and local levels.  She has extensive experience handling cases involving complex medical issues.  She represents clients in catastrophic personal injury cases involving medical malpractice, wrongful death and products liability.
Laura has held several leadership positions with the Georgia Trial Lawyers Association, currently serving as the Co-Chair of Community Outreach and previously as the Women's Caucus Delegate to the American Association for Justice.  On a national level, she Co-Chairs both the Stroke Litigation and Elevator & Escalator Injury Litigation Groups of the American Association for Justice.
In 2021, Laura received the Georgia Trial Lawyers Association Community Service Award for her work in supporting the Georgia courts system during the COVID-19 pandemic.  In that same year, she founded Mask Up Georgia, a joint effort between the Georgia Trial Lawyers Association, Georgia Defense Lawyers Association, and State Bar of Georgia Foundation to provide face masks and PPE to Georgia courthouses.  (To read more about Mask Up Georgia, click here.)
Laura believes her contributions to the larger legal system benefits all parties and helps ensure fairness and justice are achieved.
"I strongly believe that a well-functioning legal system requires not only lawyers doing great individual work, but also a sharing in a commitment to furthering the broader goals of access, fairness, and opportunities for justice."- Laura Voght

Laura was recently named to the Top 50 Women List in Georgia Super Lawyers magazine, a Thomson Reuters publication, and has been selected as a Super Lawyers honoree for the past seven years.  She also maintains a 10/10 rating from Avvo as well as membership in the National Trial Lawyers Top 25 – Medical Malpractice Attorneys.  A highly sought-after speaker on topics involving best practices in complex litigation and trial strategy, Laura has presented to colleagues at events sponsored by the Institute of Continuing Legal Education-Georgia, the American Association for Justice, the American Bar Association and Mass Torts Made Perfect.
Laura earned her Juris Doctor from Mercer University Law School and Bachelor of Arts from the University of Central Florida.  She also received a certificate in Comparative Law from Oxford University.   Laura is licensed to practice law in Georgia, Florida, and Alabama.
In her spare time, Laura enjoys spending time with family and her Jack Russell Terrier, Ella.
Practice Areas
Products Liability
Medical Malpractice
Brain Injury Litigation
Wrongful Death
Nursing Home Litigation
Honors & Awards
Top 50 Women List, Georgia Super Lawyers, Thomson Reuters, 2023
Best Lawyers in America Honoree, 2024
Georgia Super Lawyers Honoree , Thomson Reuters, 2017-23
Community Service Award, Georgia Trial Lawyers Association, 2021
Rated 10/10, Avvo
National Trial Lawyers, Top 100 Lawyers – Georgia
Mass Tort Trial Lawyers Association, Top 25 Mass Tort Lawyers – Georgia
Georgia Super Lawyers Rising Star Honoree, Thomson Reuters, 2005, 2007, 2009-15
Admissions
Education
Mercer University School of Law, J.D.
University of Central Florida, B.A.
Oxford University, Comparative Law Certificate
Professional Leadership Positions
Co-Chair of Community Outreach, Georgia Trial Lawyers Association, 2022
Delegate, Women's Caucus, American Association for Justice
Co-Chair, Stroke Litigation Group, American Association for Justice
Co-Chair, Elevator & Escalator Accident Injury Litigation Group, American Association for Justice
Founder, Mask Up Georgia
Memberships & Affiliations
Georgia Trial Lawyers Association
Georgia Bar Association
Georgia Association of Women Lawyers
Florida Bar Association
Alabama Bar Association
Atlanta Bar Association
National Trial Lawyers
Mass Tort Trial Lawyers Association
Savannah Bar Association
Dunwoody Bar Association
Society of Women Trial Lawyers
Pound Civil Justice Institute