Support for People with TBI at Side by Side Clubhouse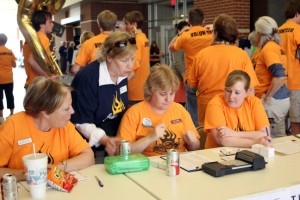 The days following a major traumatic brain injury are the beginning of what can be a long, sometimes never-ending path to recovery. Our brains are delicate and intricate and how a traumatic brain injury affects someone is unpredictable. No two injuries are alike.
Individuals who suffer a TBI, along with their families, need support in the days, months and years following their injury. Traumatic brain injuries affect the injured individual physically and emotionally. TBIs can affect the way the person thinks, acts or feels for a long time after their accident.
Adjusting to new circumstances is a process that takes time. Recovery is easier when you have a community of support and understanding from people who've been there before you.
We have seen firsthand the difficulties of people living with brain injuries. In court, we've fought for individuals living with traumatic brain injury after an accident.
Each of our cases involves exhaustive research and the more we learned about the realities our clients and others like them face, the more we felt compelled to help. Our firm is dedicated to giving back to organizations that help our clients. We've been proud to support the Side by Side Brain Injury Clubhouse.
The Side by Side Clubhouse in Atlanta is one of around 300 Clubhouses across the nation. The Clubhouses are a model of care and community founded in 1948. Originally, the Clubhouses were groups of people with psychiatric disabilities who came together to support one another. Since 1948, the Clubhouse model has expanded to include individuals with various disabilities.
Side by Side operates one Clubhouse dedicated to individuals living with brain injuries. The Brain Injury Clubhouse in Stone Mountain is a place where adults with an acquired brain injury can work with each other and alongside trained staff.
In the Clubhouse, people with brain injuries are surrounded by a tight-knit community of support while they work toward measurable goals, including the day-to-day operations of the clubhouse. If individuals wish to learn work skills and find a job in the community, Side by Side can help.
For some families, caring for a loved one after a severe traumatic brain injury becomes a full-time job. The Side by Side Clubhouse provides a safe, supportive space for people with TBI to exercise independence and give caretakers a break.
It also provides a unique rehabilitative space. Side by Side values dignity and inclusion of individuals with brain injury. Their organization recognizes the importance of independence and seeks to support and empower its members.
Perhaps the strongest value of Side by Side (and other Clubhouses like it) is its emphasis on relationships. Since the beginning, the organization has striven to be a group that exemplifies community. The best possible quality of life for people with brain injuries is achieved when they have access to medical, physical, social, financial and vocational resources.
Lives are changed (sometimes dramatically) after a traumatic brain injury, but life goes on. Living with a TBI doesn't mean the end of meaningful work, however you define it. Community support makes it possible for individuals to enjoy a better quality and fulfilled life.
The care, support and treatment a traumatic brain injury sometimes requires are not cheap. For some, it will never be affordable. Everyone deserves compassionate care.
Through donations, Side by Side is able to welcome a limited number of members, regardless of their ability to pay. With grant money from the Wounded Warrior project, Side by Side is able to provide service, free of charge, to men and women injured on active duty after September 11, 2001, who live with a brain injury.
To learn more about the incredible opportunities created by Side by Side, or to donate to its worthy cause, please visit sidebysideclubhouse.org.
— Andy Cash, Alwyn Fredericks, Dave Krugler