Talcum Powder Lawsuits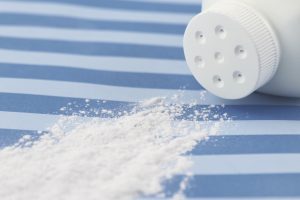 Several class action lawsuits are underway across the United States to compensate women for ovarian cancer that has been linked to the use of talcum powder, especially if the talcum powder was used in the woman's genital area. To find out if your ovarian cancer is linked to talcum powder use, contact  the attorneys at Cash, Krugler & Fredericks for an immediate and confidential review and evaluation of your case.
Affected Brands
The talcum powder at issue in the talcum powder class action lawsuits are manufactured by Johnson & Johnson and include the Baby Powder and Shower to Shower products.
Ovarian Cancer Links from Talc Powder
Talc is a mineral made up of magnesium, silicon, oxygen and hydrogen. Found near asbestos, a known and dangerous cancer-causing carcinogen, when talc is collected, it may be contaminated with asbestos.
As far back as 1971, studies have linked ovarian cancer to talc powder use. Women who use talcum powder on their genitals or undergarments, including sanitary pads, are three times as likely to develop ovarian cancer when compared to women who do not use talcum powder.
Despite these continuing studies and findings it was not until 2006 that the International Agency for Research on Cancer (IARC) recognized talc as a possible carcinogen.
Failure to Warn
The government regulatory agencies at the federal and state levels, including the FDA, as well as the manufacturers, with Johnson & Johnson being a worldwide category leader in this product, have been silent about the studies and links to ovarian cancer. No warnings to women to change talcum powder use have been given nor a recommendation to obtain a medical evaluation.
The product label itself, "baby powder," gives the false impression that the product is safe for babies, and therefore even safer for adults. This systematic failure to discuss and disclose the harmful effects of talcum powder are at the heart of the talcum powder lawsuits. In addition to failure to warn, negligence, wrongful death, and violations of countless consumer protection laws are cited in the talcum powder lawsuits.
Preliminary Lawsuits Against Johnson & Johnson have been Successful
Juries are awarding women injured by talcum powder use compensatory and punitive damages when the cases have been taken before a jury. Verdicts do not guarantee success in future cases but help shine a light on the link of ovarian cancer to talcum powder use by women.
Have You Been Diagnosed with Ovarian Cancer After Using Talcum Powder? Contact Atlanta's Talcum Powder Lawsuit Lawyers
Atlanta Law Firm Cash, Krugler & Fredericks represents victims of serious injuries because of the negligence or intentional misconduct of others. When the injuries lead to the death of a loved one, family members may pursue wrongful death actions in addition to the survivor suit. Specializing in class action law suits, auto and trucking accidents, spinal cord injuries, elevator accidents, brain injuries, medical malpractice, defective products, and premise liability matters, the Atlanta Law Firm Cash Krugler & Fredericks is here for you. Contact us to schedule a comprehensive review of your claim or call us at (404) 659-1710.
See Related Posts:
How Dangerous Drugs Reach Georgia Consumers
Nationwide Recall of Potentially Deadly Airbags Expands in Scope